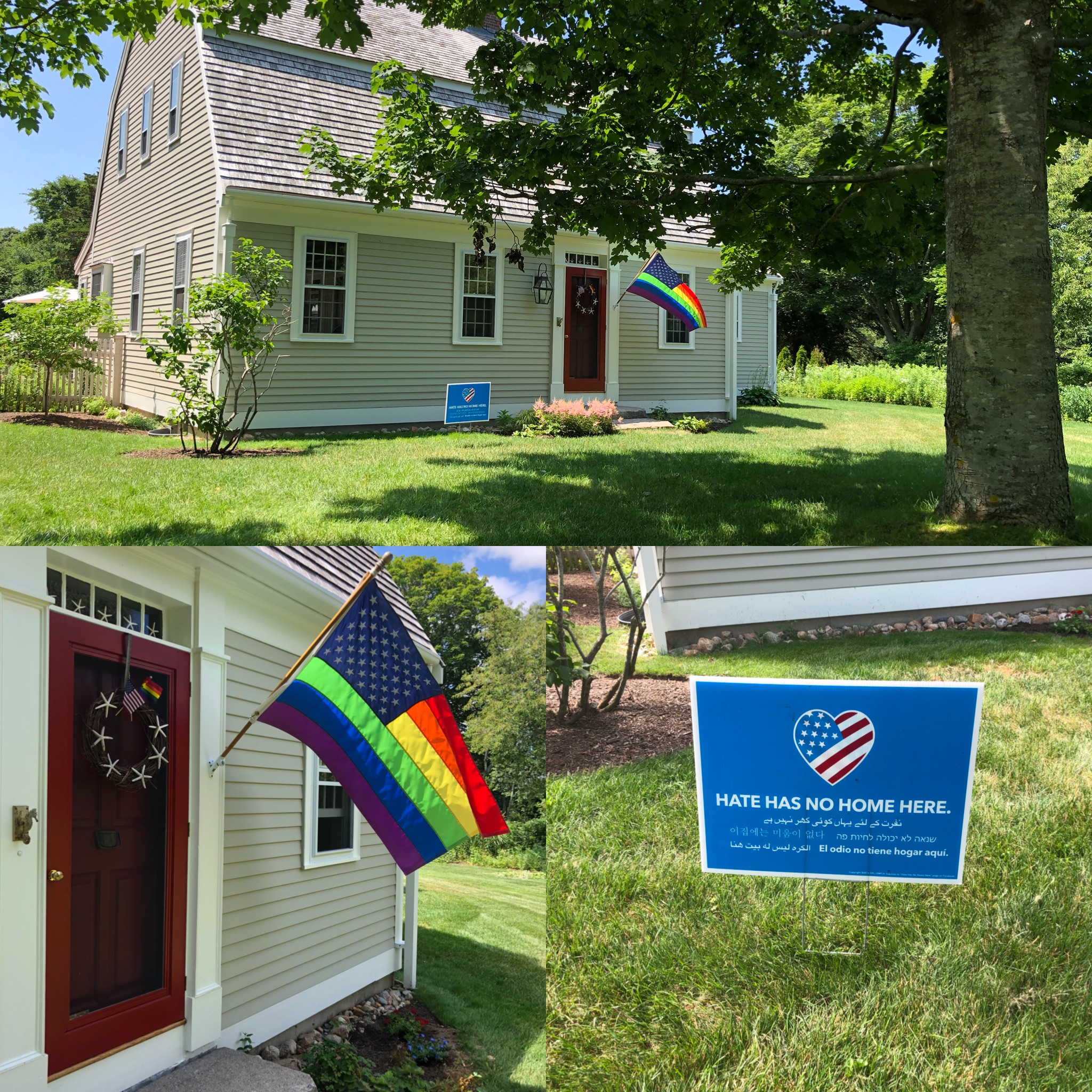 An "Ally" is a person who wants to stand up for the equality of LGBT people. Often an Ally is a heterosexual person who has had a loved one "Come Out" to them and they want to show that they care. In truth, equality will never be achieved without the love and support of allies from all walks of life.
PFLAG (Parents and Friends Of Lesbians and Gays) and HRC (Human Rights Campaign) have been vocal advocates for LGBT people and the friends and family who support and love them. Both organizations have programs the help people understand what an Ally is and how they can participate in their support of LGBT people. You can find out more about the PFLAG "Straight for Equality" program at www.pflag.org/publication/guidetobeingastraightally
The photo that is attached to this blog was taken a few days ago in Yarmouth Port, MA. It is of an LGBT flag flying proudly at the front door of a Cape residence. The story behind the display is a heartwarming tale of an Ally who cares so much about her LGBT son that she is working to end discrimination in this simple and effective display of support.
My husband Bob and I met Sue and Jeff one evening not long ago at dinner. We were enjoying some Japanese food at one of our favorite spots, Inaho. As we were finishing our delicious meal, a couple was seated at a table next to us. While looking at their menu, Sue asked if we had any recommendations as they had not been to Inaho before. We started chatting and enjoyed the conversation. We exchanged contact info and hoped we would get together sometime again.
A week later we were invited to Sue and Jeff's home for a glass of wine and some conversation. It was a lovely late afternoon and we were able to spend some time chatting about Cape Cod and getting to know one another. Jeff and Sue come to the Cape for getaways and relaxation at their spectacular 2nd home retreat.
While talking about ourselves and what brought us to Cape Cod, we learned from Sue that she has a son who is Gay. Sue and Jeff LOVE their son and support him in every way they can. In fact, Sue told me a story about when her son came out to her. Sue was so supportive that she wanted to have a celebration in honor of her son's coming out. I believe she said her son was embarrassed (in that son kind of way) and suggested she be a bit mellower about the event.
I was struck by the love and energy from Sue and Jeff as they talked about their son (and their other children) and the experience of his coming out. My heart was warmed thinking about this young man and the support he was getting from his family. Even in this day and age, coming out is not always a happy event for all.
So, on the 4th of July weekend I was walking my dogs and went past Sue and Jeff's home. There, at the front door, was a beautiful LGBT Equality Flag and a yard sign saying "Hate Has No Home Here." Wow. Parents who care so much for their child that they want the world to know that the do not support discrimination. That is the kind of grass roots activism that can change the world.
I support Sue and Jeff and am deeply proud to call them neighbors. Cape Cod is a better place that they live among us.